PLEASE DO NOT REPRODUCE THIS BIOGRAPHY WITHOUT WRITTEN PERMISSION. CONTACT US FOR OFFICIAL PUBLICITY MATERIALS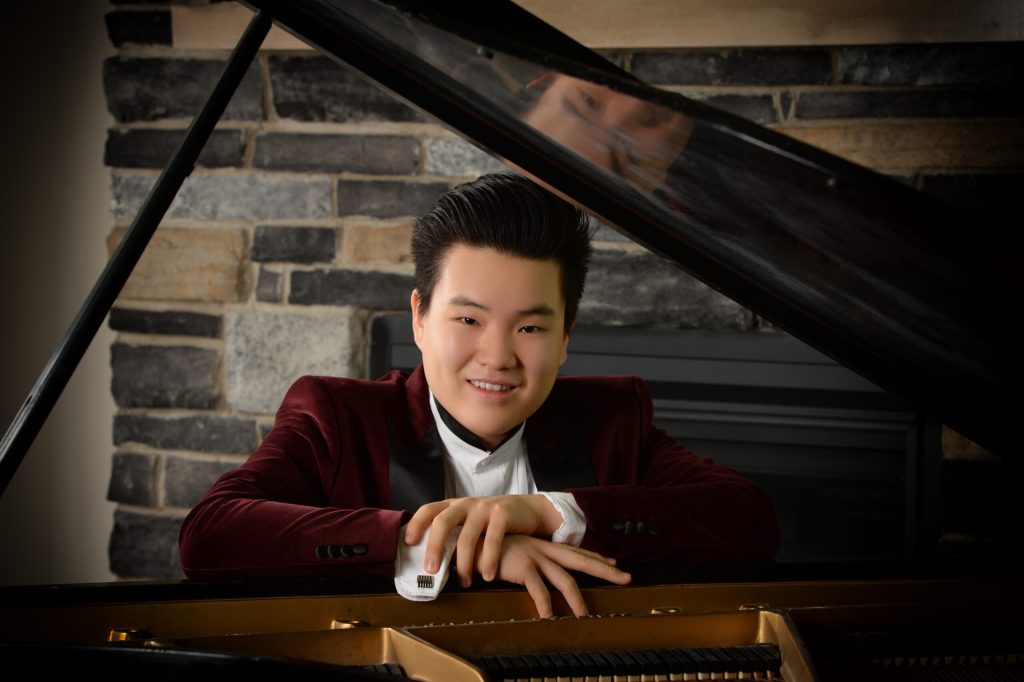 Michael Lu is emerging internationally as a young artist with a distinctive voice among American pianists. His expansive, eclectic repertoire, which spans six centuries, includes the core piano repertoire as well as many masterpieces by American-born composers such as George Walker, Samuel Barber, Florence Price, Ned Rorem, Aaron Copland, Adolphus Hailstork, Charles Griffes, and Jennifer Higdon. Through his performances—which have been noted as "moving" (Pianist) and for their "warm, enveloping tone" (Cleveland Classical)—Michael strives to communicate something not just beautiful but profoundly meaningful to his listeners.
Among his achievements, Michael was one of six pianists invited to participate in Maria João Pires' Partitura Residency at the Gilmore Piano Festival in 2023. This workshop is the first North American realization of this unique project, founded by Pires in 2012 and focused on the ideals of an altruistic artistic philosophy and the belief in music's power to help people. In 2022, Murray Perahia invited Michael to participate in his series of masterclasses on the Beethoven piano sonatas in Munich, Germany—an international event sponsored by the eminent publishing house G. Henle Verlag. Michael was coached by Perahia on the Op.111 sonata, performed a lunch concert with the nine other selected participants, and was deeply inspired by the great pianist's conviction that the intellectual and emotional sides of music cannot coexist without each other.

Michael debuted as a concerto soloist at twelve, performing Qilianshan Rhapsody by Chinese composer Kang Jiandong at the Qingdao Grand Theatre in China. His European concerto debut came a year later; he played Mozart's Piano Concerto No. 24 in C minor (K. 491) with the Orchestre de Cannes under Sergio Monterisi in Nice, France. He continues to collaborate as a soloist with numerous orchestras worldwide, working with such conductors as Stephen Mulligan and Gemma New. His 2017 performance of Tchaikovsky's Piano Concerto No. 1 with the St. Louis Symphony Youth Orchestra conducted by New at a sold-out Powell Symphony Hall was telecasted by PBS affiliate KETC (Nine Network of Public Media).
An accomplished chamber musician, Michael has played chamber music with members of the Cleveland Orchestra and the Chicago and St. Louis Symphony Orchestras and has been mentored and coached by Sharon Robinson, Jaime Laredo, Philip Setzer, Anita Pontremoli, and other leading chamber musicians. He has studied and performed several times in the Intensive Duo program, directed by Pontremoli, and the Advanced Piano Trio Program, led by Robinson, at the Cleveland Institute of Music.
In December 2017, Michael founded Classical Music for a Better World (CMBW) and continues serving as its president and artistic director. Its mission is to powerfully communicate the essence of the human spirit embodied in the greatest music. This mission centers itself on a series of online mini-concerts. Highlights of these mini-concerts include an August 2020 lecture-recital on Florence Price's Piano Sonata in E minor and a mini-concert honoring International Women's Day 2021 with music by Price, Teresa Carreño, Emahoy Tsegué-Maryam Guèbrou, Fanny Mendelssohn Hensel, Jennifer Higdon, and Juliane Reichardt.

Michael has also received recognition as the winner of several top prizes in international competitions. In 2014, he won the First Prize in the Midwest International Piano Competition, where the jury included Alexander Toradze. He additionally won a gold medal with high distinction at the Manhattan International Music Competition in 2019.

Born in August 1999 in Boston, Michael moved with his family to St. Louis when he was three. He began piano studies two years later, at age five. During his years in high school, his mentors were Stanislav Ioudenitch and Seth Carlin. He was a member of the Young Artist Chamber Program of the Chamber Music Society of St. Louis under the direction of Alvin McCall and a scholarship student of the Preparatory Program of the Community Music School of Webster University under the direction of Vera Parkin. Since 2018, Michael has studied with Antonio Pompa-Baldi as a full-scholarship student at the Cleveland Institute of Music. Michael was also a student of Jon Kimura Parker and Reid Smith. For more information, please visit https://michaellupianist.com.

Current as of May 8, 2023